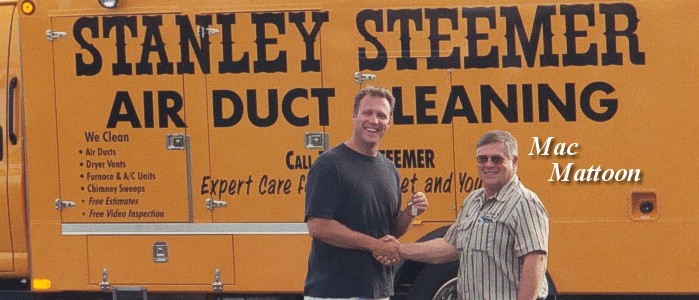 Thank you for your interest in American Caddy Vac. Let me introduce myself. I am Mac Mattoon, owner of American Caddy Vac, Incorporated. I have over 40 years in the heating, ventilation, air conditioning, and air duct cleaning industry. I also own an air duct cleaning business by the name of B&F Power Vac, Inc. which was established in 1971. B&F Power Vac uses a fleet of the Caddy Vac cleaners daily; therefore we understand the importance of a quality built cleaner.
The Caddy Vac truck mounted furnace and air duct cleaner has proven to be the leader in the duct cleaning industry. Caddy Vac was one of the first companies to develop a body unit constructed of galvanized steel sheeting. This material, when painted both inside and out, allows a satin smooth finish. The galvanized steel has been especially treated and while protected with the painted surface, should remain rust free for many years of service.
We can custom design the Caddy Vac for your individual needs. This is only one of the reasons the Caddy Vac is the most user-friendly furnace and air duct cleaner on the market today. Don't spend your time pulling all your hose out just to get to your compressor. The Caddy Vac has easy compressor access for checking oil and replacing the air filter. Adjusting belts is made easy with the very accessible compressor compartment for both the compressor and the cleaner main drive.
We strive everyday to keep up with changing technologies and provide you with the best equipment available on the market. My staff and I are here to answer any questions concerning operating, sales, and delivery of your Caddy Vac cleaner here in the United States and Canada. However, our service does not stop there. Once you purchase an American Caddy Vac you can rest assured that any help you need with your Caddy Vac will be available anytime you need it. We believe that sometimes the most important service you receive is after the sale. Therefore we don't just say we give you service after the sale…we mean it! Give us a try and we'll prove it. Please call so I can send you a catalog and price sheets for each of our most popular cleaner models. Please note that the prices listed do not include the cab and chassis. Please call after receiving your information packet, so we can answer any questions you may have.
We have both leasing and buy financing (total 100% truck & cleaner) available O.A.C. Specialized training is provided with the purchase of the CaddyVac Cleaner at our Lewiston, Idaho location. Again I thank you for your interest and look forward to hearing from you soon. If you want me to provide you with a truck we do have several models available. FOB Lewiston, Idaho this does not include shipping title tax or doc fees.
Thank you for your interest in the CaddyVac Cleaner.
Sincerely,
Mac Mattoon
NADCA CERTIFICATION
National Air Duct Cleaners Association (NADCA) certifies air duct cleaners. Mac Mattoon, also owns B&F Powervac, and has gone through the process of educating himself on the standards and regulations of the air duct cleaning industry. As an American CaddyVac customer you are privy to not only the experience, but the education that we have accumulated throughout our 40+ years in the industry.